I hope you will agree with me when I say,
Investing in the ideal pair of a VR set helps you provide the best experience of virtual reality!
Virtual reality is a new reality that is going to take over the world soon. If you haven't already experienced virtual reality, we would urge you to continue reading this article till the end. This article does not only include Oculus Quest 2 review or Valve Index review, it also includes details regarding what virtual reality actually is and what features you should look for in an ideal VR set.
Stop searching Oculus Quest 2 vs Valve Index Reddit, and join us on this comparison below.
Virtual Reality
What is Virtual Reality? Why has it taken people by storm? What is metaverse that has been introduced by Facebook?
Well, virtual reality is just a computer-stimulated reality world. It has computer-generated environments that you can be a part of using one of the VR sets. Virtual reality helps you escape the real world and jump into an exciting virtual world where you can choose to experience what you want. You can choose any environment you want to be in and enjoy it as long as you want with your VR sets. Everything can be enjoyed just in the comfort of your own home! From playing video games to traveling to socially interacting with people, you can do everything in this virtual world.
Oculus Quest 2 VS Valve Index
Oculus Quest 2
Oculus Quest 2 is a VR headset created by Facebook Technologies, a division of Meta platforms. This is an advanced all-in-one headset that is available in 128 and 256 GB. Every detail of it is engineered perfectly which allows the user to have an amazing experience when using the product.
(Check out the Oculus Quest 2 prices here)
The virtual worlds quickly and easily adapt to the movements of the user letting you explore the impressive games and technology with freedom. Its accelerated performance and next-generation graphics will definitively amaze you.
This set requires no PC or console you can just connect it with your phone and enjoy. you can enjoy games or front row seats of a concert using this set, or with live casting you can invite people around you to join you in your virtual experience or even battle with your friends, using multiplayer in the virtual world.
Interested in similar articles? Here's one we think you'd like:
Valve Index
Valve Index is a VR headset created and manufactured by Valve. It was announced on April 30, 2019, and the headset was officially released on June 28, 2019. This headset makes sure that the user experiences the virtual world just like the real world.
Check out the entire Valve Index VR set here.
Valve Index provides a luxury experience to its users. It is costly when compared to Oculus Quest 2, however, it provides value for the money invested.
Valve Index has a complex setup. It requires a physical space for the play area unlike Oculus Quest 2. Since Valve Index needs to be connected to the PC, it offers more games when compared to Oculus Quest 2.
Controllers
Let's continue our Valve Index and Oculus Quest 2 review.  Talking about Oculus Quest 2 and Valve Index controllers, both of them are designed to provide you with the ultimate experience of virtual reality. However, both of them are quite different from each other.
When comparing both controllers, Valve Index controllers provide a better experience. The controllers have two control sticks, four face buttons, and triggers. These features are available in almost all VR controllers. However, what makes the Valve Index controllers better is the inclusion of exclusive features that enhance the immersion and gameplay flexibility.
The features include touchpads and some new methods of interacting with virtual spaces. The ability to charge the controllers using USB type C makes them better than Oculus Quest 2 controllers.
On the other hand, the Oculus Quest 2 review explains that these controllers also include all the necessary features that are required in a VR controller. However, they are battery-powered that need to be taken care of before every use to enjoy a good VR experience. Moreover, Quest 2's controllers require higher maintenance than Valve Index controllers.
Setup
Comparing Valve Index VR vs Oculus Quest 2 setup, Oculus Quest 2 takes only a couple of minutes before you can start using it. You need to connect it with your Facebook account and set your play area to get playing.
It is very easy to use Oculus Quest 2 with a PC as well. You can use a USB type C chord and plug it in the headset to play right away as long as you have Steam VR installed on your PC.
On the other hand, Valve Index is quite difficult to set up. You can find several videos of setting up the Valve Index or read the setup on Valve's support page. You need to mount a tracker in the wall and plug the chords in your PC. To set up Valve you require space for its hardware.
After you set up the hardware of Valve, the setup is easy ahead. Setting up hardware for Valve restricts the portability of the VR set.
Facebook Account Requirement
How does Oculus Quest 2 work? When comparing Valve Index VR vs Oculus Quest 2 VR, Quest requires a mandatory Facebook account for the users to connect both. It is seen as an invasion of privacy by several users.
Connecting your Facebook account to your VR set creates a link between the two. Facebook moderators would be monitoring all of your situations on your Facebook account and various people count this under breach of privacy.
Oculus Quest 2 requires only a legitimate Facebook account holder to connect their account with the VR and enjoy its experience. This means that people who do not like to connect their personal accounts with Oculus Quest and think of opening a burner account for this purpose might not be successful in connecting the two and enjoying the VR experience.
Valve Index, on the other hand, has no such restrictions as mentioned in the setup. You need to connect Valve to its hardware and it is ready to use. Hence, if you have any issues with connecting your personal account to Oculus Quest, you can consider purchasing the Valve Index.
Interested in similar articles? Here's one we think you'd like:
VR Experience
Talking about Oculus Quest 2 vs Valve Index specs, the resolution is one of the most important factors that fall under this category.
Valve Index vs Oculus Quest 2 resolution, Valve Index has a lower resolution per eye as compared to Oculus Quest 2. Quest has a higher pixel count. It offers a high resolution of 1832 x 1920 compared to Valve Index's resolution of 1440 x 1600. However, most people do not even notice this difference between the two.
One of the modifications between the two actually makes a difference and differentiates the two VR sets in the field of view. Valve Index has a 130-degree FOV as compared to Oculus Quest 2's 89-degree FOV.
Field of view really creates a difference in VR sets. This is because it allows you to experience the virtual world around you in a mentioned view field. The higher the field of view, the better the VR experience.
The field of view provided by Valve Index is the highest FOV being offered by VR sets in the market currently. Talking about the display, both of the VR sets have a display of 120 Hz. There is no difference between the display.
Valve Index vs Oculus Quest 2 resolution and field of view combine together to create a difference between the VR sets. Valve Index offers a superior and luxury VR experience when compared to Oculus Quest 2 VR experience.
In The Box
Oculus Quest 2 comes with controllers, a pair of batteries for the controllers, a headset, and a charging cable in the box.
On the other hand, Valve Index comes with numerous accessories. Along with the controllers, headset, and headphones, the box comes with several video and power cables that allow you to connect the headset to the PC. The box also includes a power supply and a charger to charge the controllers.
Outside of chords and hardware for the actual headset, it also ships with the Index's tracking device and a power cable and mounts for it.
Interested in similar articles? Here's one we think you'd like:
Price
Oculus Quest 2 is cheaper than Valve Index. This VR set is made to provide beginners with the ultimate experience of virtual reality at a cheap price. The features offered by Quest are similar to the features of Valve. However, Valve is known to provide a better and more luxurious VR experience as compared to Quest.
You can purchase the basic and cheapest version (128 GB) of Oculus Quest 2 at $299. Upgraded versions of Oculus Quest 2 that offer more storage and a higher RAM can be purchased up to a price range of $399 (having a storage of 256GB).
On the other hand, Valve Index is priced higher than Oculus Quest 2. This is because Valve offers a luxury experience when compared to Oculus Quest 2. Valve Index box, including all the things mentioned, is available at a price of $1,075.
Design
Oculus Quest 2 is a completely wireless VR set that is super easy to set up and does not require the use of any cords to function. You do not need to plug it into a PC in order for it to work, like Valve Index. Oculus Quest 2 comes ready to use out of the box.
According to Oculus Quest 2 reviews, it is a lightweight VR set that is easy to travel with. It is portable and comfortable to wear. It also has an easy-to-fit glasses spacer for people who regularly wear specs. This spacer ensures the safety of the Oculus Quest 2 lens as well as your glasses. It prevents both of them from any scratches that might result from the contact of the two.
Oculus Quest 2 has a minimalistic and intuitive design. If you want to go for an elite strap of Quest, you can pay extra for the modifications. Fitting the headset of the Quest is a tricky task. Achieving the ideal fitting for the headset will make you mess around with the buckle-style loop quite a lot. This might not be an issue if you are the only one who uses the headset. However, if several people use the same headset, achieving the ideal fitting every time might be a difficult task.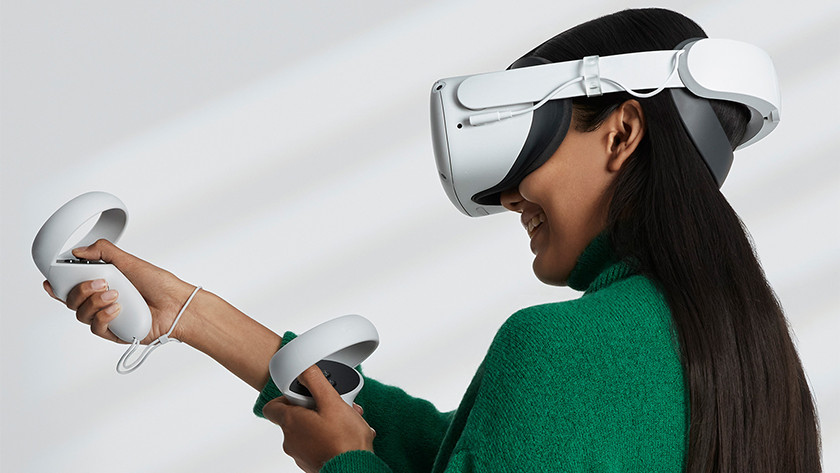 On the other hand, Valve Index has a superior headset strap that can be easily fitted with a dial that comes with the headset. There is also a second dial on the headset that moves the lenses closer to or further away from your eyes. This feature makes the headset comfortable for spectacle wearers.
Valve Index is a luxury piece of set that has controllers which can track the movement of each of your fingers. This allows you to feel and experience virtual worlds like never before. Although the number of games and applications supporting this feature currently is very low, however, this might be the ultimate feature that would be supported in the near future by every application.
Valve Index is not a portable VR set. It depends upon a PC or a laptop with the required software and specifications to function properly. Valve Index also requires a lot of space in your play area to set up the physical base stations for the headset to see and for the motion sensor to work properly.
Conclusion
We hope you enjoyed the Oculus Quest 2 vs Valve Index specs. Oculus Quest 2 review and Valve Index review have been specifically written with each and every detail to make sure the article provides you with all the required information. We hope this article eases your decision-making between the two. Good luck!
You can see images and videos in three dimensions using your VR sets. These reasons make virtual reality popular all around the world. The exciting news of experiencing anything and everything in the comfort of your house makes people jump with joy.
The well-known Metaverse is also a network of 3D virtual worlds. It is focused on social interaction and Facebook is currently working on it. People believe the metaverse to be the next future where people will interact with each other in social worlds.
Source